By Krystle Maynard, DNP, MSN, RN, SANE-A
---
With the strain and pressure our healthcare system has been under the past few years, nurses have serious cause for concern. Nurses are the largest segment of healthcare professionals, and sadly, they are at a higher risk of suicide than the general public. Studies show that more than 700 nurses died by suicide between 2017 and 2018 before the COVID-19 pandemic took full effect. Researchers fear even worse numbers to emerge for the pandemic period and more recently. 

If you or someone you know needs help navigating thoughts of suicide, dial "988" for assistance.  Continuing education courses can provide valuable information about suicide screenings, prevention strategies, and other helpful topics related to this serious issue.
---
Nursing and Mental Health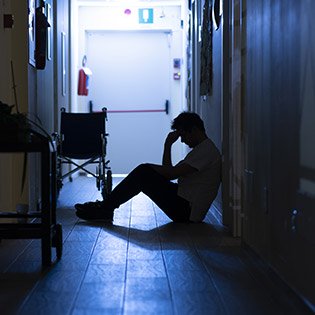 Nurses are subject to physical and mental exhaustion due to the demands of their job. They are often required to care for multiple patients while dealing with tight time constraints. This results in being constantly on the go and at times being unable to devote enough time to each patient's care. Nurses' feelings of exhaustion can be exacerbated by emotionally taxing experiences such as witnessing death or delivering bad news, making it hard to "keep things together." If burnout then takes hold, this can take a toll on nurses' own physical and mental health.
Adding to their stress, nurses and other healthcare professionals may also be faced with properly caring for patients with mental illness combined with other medical conditions. This can make it hard to detect if or when a patient is experiencing a mental health trauma or crisis, thus causing delays in adequate treatment. It is important for nurses to learn how to recognize signs of mental disorders in their patients and how best to respond to and care for such patients.  
---
The Impact of Covid-19 on Healthcare Professionals
The Covid-19 pandemic was catastrophic for so many people worldwide. Mental health conditions such as anxiety, depression, and posttraumatic stress disorder skyrocketed. The nursing profession took the brunt of these stressors due to working on the front lines. Nurses were expected to work gruesome hours, push through the anxiety of a pandemic, and watch people die daily. There was so much fear surrounding the unknown in the beginning, and even as time passed, nurses' exhaustion and burnout only increased.

Pandemics are known to exacerbate mental health issues and contribute to problems with sleep, mood, substance abuse, and fear. Outside of the work environment, so many people's lives felt the impact of social distancing, nationwide shutdowns, and virtual education. People were being isolated, and most of what was seen and heard was negative.
Healthcare workers during the Covid-19 pandemic experienced many of the following:
Psychological stress
Various responses to perceived or actual threats
Physical effects of stress
Lack of personal protective equipment, leading to increased stress and fear
Burnout
Compassion fatigue
Moral distress
---
Suicide Prevention and Mental Health
The aim of offering mental health and suicide prevention services is to reduce stigma, make resources more accessible, and establish effective suicide prevention measures. In recent years, the United States healthcare system has made positive strides in destigmatizing mental healthcare, but this also demands a broader reach. To address this need, healthcare workers must be appropriately educated regarding mental health issues and triggers to identify those needing help. This is achieved with assessment tools in clinics and medical organizations and instruction for healthcare professionals.
Educational courses such as suicide prevention and screening and suicide intervention and prevention are great places to start for healthcare professionals. Another great option is connecting with a local public health department to provide community resources and education. 
An easy way to help may be to provide free, available resources by way of social media, websites, flyers, ads at local businesses, etc. Where might you start if you wanted to reach as many people as possible to show them that help is available?
---
Closing Thoughts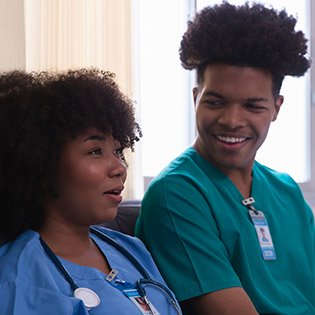 Mental healthcare is natural and is desperately needed for all. For years, there was a massive stigma against mental health, which caused many to fear seeking help. Due to improved awareness, more people are now willing to speak up and seek help. But this has led to another issue altogether: there doesn't seem to be enough mental health providers to meet the demand, often causing delays in treatment. Similarly, many health insurance plans do not offer easy access to mental health professionals or are selective with their coverage, and a large majority of people cannot afford treatment out of pocket.
As frontline healthcare workers, nurses often spend the most time with patients. This makes them the best population to assess and detect potential mental health crises in patients.  
References:
Deaths by Suicide among Registered Nurses: A Rapid Response Call
About Wild Iris Medical Education:
Wild Iris Medical Education, Inc., is a privately held, woman-owned company providing online healthcare continuing education. In 1998, we began offering online ANCC-accredited nursing continuing education courses and since then have expanded to provide CEUs for occupational therapists, physical therapists, paramedics, EMTs, and other healthcare professionals.
---
Accredited and Approved Nationwide.
High-quality CEU Courses since 1998.
---
Join Our More Than 750,000 Satisfied Customers Now!
High-quality, accredited, evidenced-based continuing education courses in an easy-to-use format designed for learning, from Wild Iris Medical Education. We've been providing online CE since 1998.