Wild Iris Medical Education, Inc.,
provides high-quality online continuing education courses for nurses, occupational therapists and occupational therapy assistants (OT/OTA), physical therapists and physical therapy assistants (PT/PTA), paramedics, EMTs, and other healthcare professionals. We offer many state-mandated continuing education courses. View our comprehensive CEU course list, including oncology (cancer), cardiac/cardiovascular, infection control, neurology/stroke and other topics.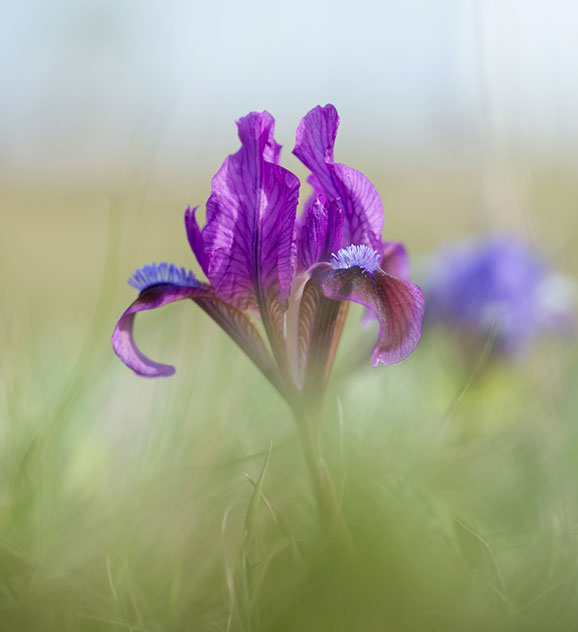 Founded in 1998, Wild Iris Medical Education is a privately owned California corporation accredited and approved to provide continuing education online throughout the United States by the American Nurses Credentialing Center (ANCC) and the American Occupational Therapy Association (AOTA).
Numerous other state boards and professional agencies have also approved our courses; for a complete list, see our Accreditation section.
The Women's Business Enterprise National Council (WBENC) has certified Wild Iris Medical Education as a women-owned company run by our president and CEO, Ann Johnson, RN. To achieve this distinction, Wild Iris Medical Education followed a meticulous screening process, which included an in-depth review of our business and a thorough site inspection by the certifying agency.
Ann Johnson, CEO is a registered nurse and has worked in many areas of nursing. Ann's last hospital job was as emergency department manager and director of the Drug-Free Workplace Program at Ukiah Valley Medical Center in Ukiah, California. She was also a nursing instructor for 5 years at College of the Redwoods in Fort Bragg, California.
Ann lives and now works from her property in the redwoods of California. She served 25 years as a volunteer fire fighter with the Comptche Volunteer Fire Department.
Learn more about our professional staff in the Our Team section.
We provide our customers with up-to-date, evidence-based CE course content created by a team of experienced clinicians and educators. Our customer service professionals are available by telephone each and every business day, and email inquiries always receive a quick response.
Serving a broad audience, from individual professionals to large healthcare organizations, Wild Iris Medical Education can provide you with the perfect solution for your CE needs.
In 2017, we streamlined our website and combined our different domains, nursingceu.com, therapyceu.com, and ems-ceu.com into one, wildirismedicaleducation.com, to offer a simple and convenient customer experience. Unlike many competitors, we make our courses available to read first and then pay last to receive an instant certificate of completion. Healthcare professionals in all the fields we serve (nursing, occupational and physical therapy, EMS and more) can easily access any of our continuing education courses on any device by following this easy process on our responsive website:
Access any online CEU course on wildirismedicaleducation.com
Pass the test and complete an evaluation
Register your course completion and pay
Get your certificate instantly online and by email
Discounted corporate account options for groups are available upon request.
Nestled in the northern California redwoods, our company's name is inspired by the purple wild irises that bloom in profusion each spring in the silence of the forest. In that spirit, our goal is to allow our valued customers to choose their own serene learning environment, away from the pressures and distractions of a busy work life.
We are happy to connect with you!
25 Years in Business!
In 2023, Wild Iris Medical Education was proud to celebrate 25 years of providing our valued customers with evidence-based continuing education.

See more about our history...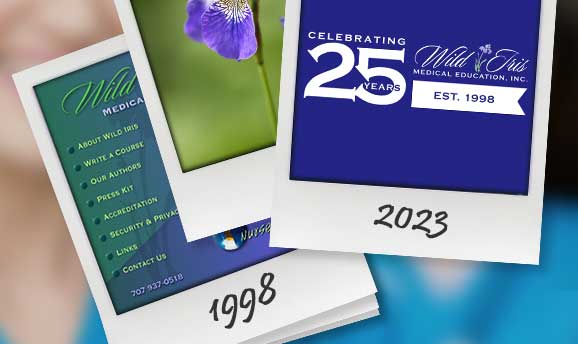 BY POSTAL MAIL
Wild Iris Medical Education
PO Box 333
Comptche, CA 95427
BY PHONE
1-707-937-0518
(Monday-Friday, 9am - 5pm Pacific)