By Sheryl Ness, MA, BSN, ADN, RN
Patient satisfaction is directly linked to patient expectations. As nurses, it's so important to consider all of the ways a patient might view their own health outcomes during and after a care encounter as either positive or negative.
Setting realistic expectations is not as easy as it sounds. There are many elements to consider, including the patient's background and baseline health, communication style, education level, culture, and personality. There is also a trust element that may be the most difficult to overcome if the patient has had a previous negative experience when receiving care.
---
Baseline Health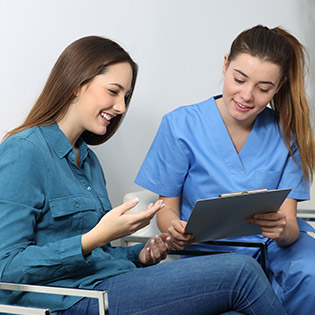 One of the first steps in understanding patient expectations is to check in with your patient early on in their experience. This is often done formally during an admission interview. As you are asking admission questions, pay attention to the patient's response.
The admission interview includes assessing the patient's level of education and cultural aspects that may be important to note as you create a plan of care. You can also often pick up cues that might indicate their level of experience with the healthcare system, outcomes from previous care experiences, and a baseline understanding of their condition. Use open-ended questions to explore more about each aspect. This may take more time, but discovering the patient's needs, concerns, and preferences from the start will set the stage for a positive experience for everyone.
---
Setting Expectations
One of the best ways to check in with your patient's initial expectations and concerns is to ask, "What is the main reason you are seeking care today?" You can follow up with the question, "What is the outcome you hope to have as a result of your care experience?"
Communicating clear expectations and correcting any misinformation or unrealistic expectations from the beginning is a step in the right direction.
---
Clear Communication Is Key
If you look at any patient experience survey, you will notice that good communication with the care team is one of the main reasons patients report a positive experience. Clear communication includes these key elements: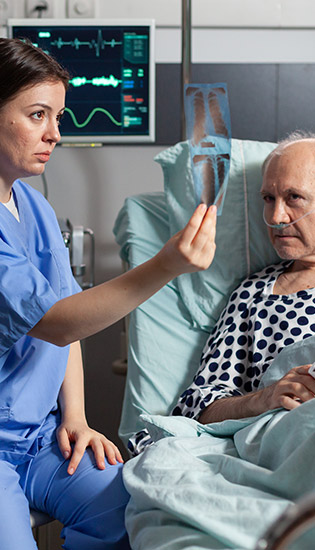 Establish rapport and trust early on in the care experience. For example, sit down near the patient and communicate at eye level.
Introduce the care team. Often, the nurse is one of the key connections to help the patient understand who their care team members are and what each member's role is. Use a white board or other means to communicate updates from members of the team.
Communicate often. Let the patient know how often you will be checking in on them and that you are available if they have any question or concerns.
Use baseline information to create the plan of care. Repeat the plan back to the patient to check understanding and agreement.
Pay attention to any verbal or nonverbal clues. These might indicate if the patient is struggling with information or comprehension. It's important to not make assumptions on what the patient understands.
Use everyday words that the patient understands. Explain any medical jargon or acronyms. Use plain language principles (see "Resources" below).
Present any complicated information by starting with the simple and moving to the more complex. Check in on what the patient understands after any care team rounds or testing to correct and clarify information.
---
Prepare for a Successful Discharge
Start your discharge teaching at admission. This is one of the best ways to reinforce learning along the way when the patient has direct access to ask clarifying questions prior to returning home.

Cover any instructions for medical or assistive devices that the patient will need as they transition home for recovery.

Review the patient's medication list in detail, paying close attention to any new medications and related instructions. Make sure the patient understands the reasons and importance for any new medications.

Schedule a nurse follow-up call. Let the patient know that someone will be checking on them after they return home. Offer a phone number, such as a 24-hour nurse line, to call if they have questions or concerns after they transition home.

With permission, include any family members or caregivers during education, updates, and information sharing about the patient's care.
Place a focus on patient safety. Explain reasons how and why safety measures in the hospital and at home are designed to keep the patient from having an adverse outcome (for more details on patient safety, view our course Medical Errors: Prevention and Patient Safety).
---
Follow-Up Care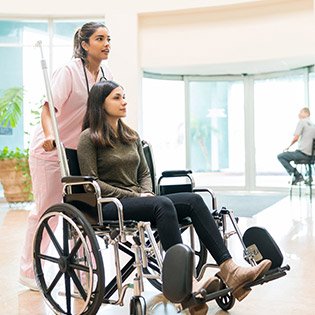 As you discharge your patient, check in on their understanding one last time. Revisit the initial goal the patient had for their care experience. Ask the patient if they feel comfortable with their outcome. Check on any remaining questions they have, clarify information, and provide their discharge summary and supplemental written instructions for them to refer back to when they are home. Remind them of any follow-up calls or appointments they have as well.
It's especially important to end a patient's care encounter on a positive note whenever possible. It's the last thing the patient and their family will remember. Send them home with knowledge of their condition and the confidence needed to recover and take active steps to care for themselves.
---
Resources
Websites
References
Agency for Healthcare Research and Quality (AHRQ). (2021). What is patient experience? Retrieved from https://www.ahrq.gov/cahps/about-cahps/patient-experience/index.html
Dhand S. (2020). Setting expectations: how to manage challenging patients. Retrieved from https://www.wolterskluwer.com/en/expert-insights/setting-expectations-how-to-manage-challenging-patients
Karaca A & Durna Z. (2019). Patient satisfaction with the quality of nursing care. Nursing open, 6(2), 535–45. Retrieved from https://doi.org/10.1002/nop2.237
MedlinePlus. (2019). Communicating with patients. Retrieved from https://medlineplus.gov/ency/patientinstructions/000456.htm
About Wild Iris Medical Education:
Wild Iris Medical Education, Inc., is a privately held, woman-owned company providing online healthcare continuing education. In 1998, we began offering online ANCC-accredited nursing continuing education courses and since then have expanded to provide CEUs for occupational therapists, physical therapists, paramedics, EMTs, and other healthcare professionals.
---
Accredited and Approved Nationwide.
High-quality CEU Courses since 1998.
---
Join Our More Than 750,000 Satisfied Customers Now!
High-quality, accredited, evidenced-based continuing education courses in an easy-to-use format designed for learning, from Wild Iris Medical Education. We've been providing online CE since 1998.